Hewett Academy goes the extra mile to support pupils during lockdown
Back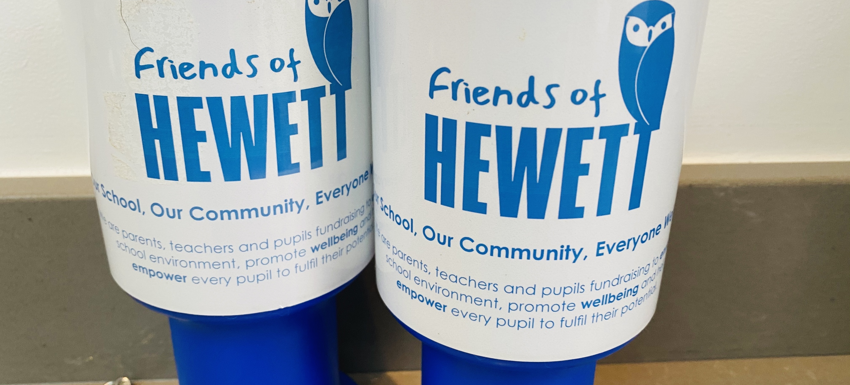 January 21st 2021
Hewett Academy goes the extra mile to support pupils during lockdown, giving out extra laptops and distributing additional food vouchers to families that need them.
Thanks to a generous donation of £33,000 from Anguish's Educational Foundation to Friends of Hewett, every child will have their own laptop and be able to access the internet via wifi dongles.
This latest push to ensure children can continue to learn whilst at home is part of the Friends of Hewett's 'No Hewett Family Left Behind' scheme. Prior to this latest donation, the scheme had funded 39 laptops for Hewett pupils, and working with local wholesaler Mr Fruity, the delivery of 500 food parcels to families, along with games and toys for younger siblings.
Before Christmas, the whole school community pulled together to deliver 100 Christmas food parcels so that pupils could have an extra treat over the holidays.
This lockdown, the 'No Hewett Family Left Behind' scheme has also seen the academy top-up free school meal provision with a £30 voucher for every family that needs one. This includes families who don't formally qualify for free school meals but have been financially affected by the pandemic.
David Hynes, Chief Executive of Norwich Charitable Trusts, said:

"Digital exclusion is such an important issue at the moment and whilst it is essential that we keep pupils and their families safe it is also vital that all young people have the equipment necessary to enable them to learn online. It is completely unacceptable for young people whose families cannot afford a laptop/tablet and/or internet access to be left behind. Education must remain a right for all, not a privilege for those who can afford to pay to access it."
Rebecca Atkinson, from Friends of Hewett, said:
"We felt it was important that families are able to choose their groceries and get the best value for money to ensure their child is supported during home learning. No-one can learn when they are hungry.

"By funding laptops and ensuring every child has access to the internet, it means children don't have to share devices with siblings. They can therefore access the school's remote learning resources throughout the day and continue their education at home."
Antony Little, Principal of Hewett Academy, said:

"We've been blown away by the fundraising efforts of our Friends of Hewett group during lockdown. This donation, which will ensure every student has access to a laptop, will help to conquer the digital divide within our school and make sure every child deserves the excellent education they deserve.

"Making sure every child is fed and family is supported, is at the heart of what we do. Hungry children can't learn. An extra £30 food voucher will make a big difference to families in need.

"We have an incredible community at The Hewett and we are determined to make sure that no child gets left behind."
One Hewett parent commented:
"My boys are so busy with their school work before yesterday they was having to share a laptop where they were only able do a few hours a day since they both now have a laptop they have really knuckled down and completing school work and earning house points which is really pleasing to see."
Another parent said:
"It's changed everything. She used to get so upset before because of how hard it was on her phone but now it's easy to do her homework. She can also play games on it with her friends from school too which has helped her mentally I think too."