Enrichment & Cultural Capital
We strongly believe it is our role to introduce students to - and promote new - knowledge of things outside of the sphere of their everyday lives. We want them to encounter the best that has been thought and written in both their academic curriculum but also in the wider opportunities provided by the school. We do this in a range of ways.
All students have access to enrichment after school and these are regularly changed. For example, in this term our students have had access to triathlon training, digital arts club and much more! These enrichments are high quality and, whilst they are not formally taught elements of the curriculum, they are based around either the chance to volunteer, develop a new skill or take part in a physical activity. Students could develop their depth of interest in a certain subject (e.g. geography or art) or try something completely new (e.g. a new sport or creative genre). There are some opportunities, such as the Duke of Edinburgh's Award, to obtain extra qualifications or awards.

We believe European travel is an essential part of developing cultural capital beyond both what we understand in the UK and, to some extent, beyond even Europe. We will be developing a plan to ensure our students have access to foreign travel during their time at Hewett Academy after covid restrictions are fully lifted.

At the end of each year, we dedicate a few school days to really developing our love of our subjects and broad understanding through an activities week based around curriculum areas. During this time, students sign up to various workshops, trips and activities that sharpen their academic understanding but also work to develop their social, moral and cultural understanding. Which includes our very popular "Manga Day".

During the academic year, we have a series of planned school trips and events to enhance and enrich learning. For example, we have taken the whole of year 7 to the National Gallery in London, year 8 went to Walsingham and the North Norfolk coast and year 9 learnt camping skills. We also take students on a fishing trip.

Our students have the opportunity to take part in our annual school musical collaboration with Jane Austen College and Sir Isaac Newton Sixth Form.

Our library is an essential part of our enrichment and cultural offer to students, offering a wide variety of high-quality resources to help students understand the hinterland around their subjects.

We offer students a chance to be informed with current affairs and the news by buying in newspapers and developing an appreciation of art history and music (through the curriculum).
Our programme for September to December 2023 can be found below.
The Duke of Edinburgh's Award Scheme and the Venture Award
The Duke of Edinburgh's Award (DofE) is a scheme that has been running since 1956. It aims to help young people gain essential skills, experience, confidence, and resilience to successfully navigate adult life. Hewett Academy is a licensed provider of the DofE and we are offering our students in Year 9 and above the opportunity to embark or continue with their DofE this academic year. To show an expression of interest on behalf of your child please talk to your teacher. We will review the responses and begin work with those interested after the October half term.
Find out more about the Duke of Edinburgh's Award
The DofE is for young people aged between 14 and 24. We are conscious that students in Years 7 and 8 may be interested in pursuing this when they reach the appropriate age, but may be uncertain of what is involved. To support our younger students in preparing for the DofE we are encouraging our students to embark on the Venture Award. Our extra-curricular activities support students in completing the Venture Award along with other additional activities we will be provided later in the academic year. Please use the reply slip below to show your expressions of interest. We will review the responses and begin work with those interested after the October half term.
Find out more about the Venture Award

Sport
The £2 million Eileen Ash Sports Hall opened in September 2018 for the use of Hewett Academy students and those from Jane Austen College, as well as being available for community use outside of school hours.
The ultra-modern sports hall boasts provision for 4 badminton courts, netball, basketball, 5-a-side football, korfball, table tennis, volleyball, trampoline, and the hall has areas for martial arts and dance.
Eileen Ash herself officially opened the sports hall in November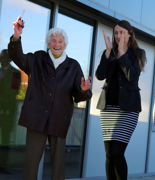 2018. Eileen Ash is
the oldest living international cricketer, having debuted for England in June 1937 and playing seven Test matches over her 12 year career, playing under the maiden name Eileen Whelan and notching up two centuries. She also worked for the civil service, and was seconded to MI6 during the Second World War.
Eileen Ash passed away in 2021 - you can read our tribute to her here.