Hewett Academy students take part in their first school trip since before the covid 19 pandemic, 'Big Day Out'
Back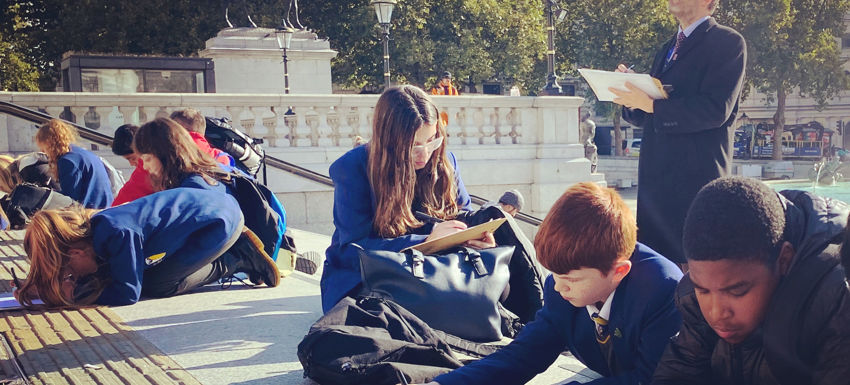 October 15th 2021
On Tuesday 12th October, Year 7 and 8 pupils joined in with Hewett Academy's 'Big Day Out'.
Hewett Academy's 'Big Day Out' was a school trip organised to provide those students who missed out on their usual 'end of Primary School' activities due to covid restrictions, with an opportunity to engage in extra curricular learning outside of the classroom. This was Hewett Academy's the first school trip since the beginning of the Covid 19 pandemic, so it was sure to be a great one.
As part of their 'Big Day Out', Year 7 students visited London's National Gallery to see art work from Van Dyke's Charles I, to Van Gogh's Sunflowers before spending time drawing in Trafalgar Square. Year 8 students embarked on a humanities day trip - where they went to Walsingham Abbey to learn about the religion and history of the building and then onto Sheringham to look at features of coastal erosion. Year 9 students also joined in by using their newly funded camping equipement to experience the wonders of the outdoors. A great day out was had by all.
Even more amazing, is that Hewett's 'Big Day Out' was entirely funded by their PTA, Friends of Hewett, which has established a 'Wild Horizons and Adventures' fundraising project to ensure that all children were able to access school trips, regardless of financial circumstances. Thanks to an anonymous donor, 'Big Day Out' was able to happen.
The donation also allowed for camping equipment to be purchased which was not only used as part of the trip, where students used it to gain experience of outdoor cooking and pitching tents, but all in the summer holidays where year 7's used it to camp outside on the school field as part of their transition.
Antony Little, Hewett Academy's Executive Principal said:
"Trips are such an integral part of the community life of school life and our fantastic Big Day Out gave hundreds of Hewett students the chance to experience a bit of normality. We are very grateful to the Friends of Hewett for being able to provide the funding to ensure all students that wanted to go, could do so. They learnt so much and we are so proud of their behaviour and engagement. After a difficult couple of years, where many of these students lost out of the memory making school trips in primary and secondary school, this was such an important event for us at Hewett."