It's a whole new ball game at Hewett Academy
Back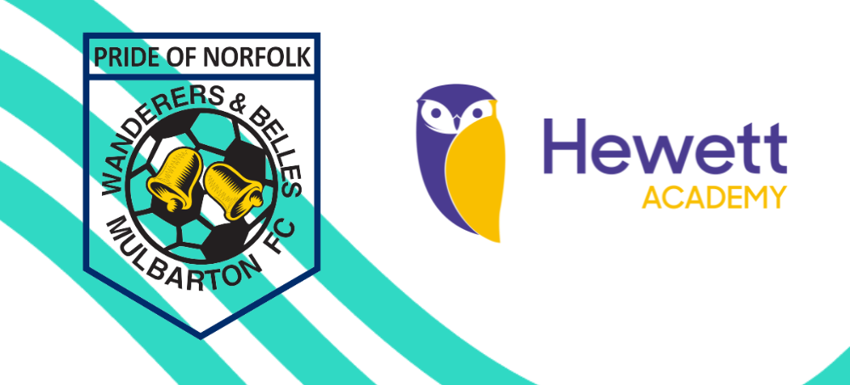 November 16th 2021
Hewett Academy and Mulbarton Wanderers & Belles FC have formed a new partnership which will see the popular local club training and playing matches at the school from November 2021.
Mulbarton Wanderers FC was formed in 1993 and are currently in the Eastern Counties League Premier Division, they are one of the largest football clubs in the region, providing football to over 20 youth teams, 2 adult men's teams as well as 2 girls and 2 ladies teams. Hewett Academy are delighted to be able to offer their facilities to a reputable club of the community.
Executive Principal Antony Little said:

"Hewett Academy is well known for both its excellent facilities and the sporting legacy of the school, producing both fantastic student sportspeople and sports qualifications. Now, working alongside one of Norfolk's biggest local teams, we can take that even further."

"This partnership is deeper and more significant than just playing on our fields; Mulbarton Wanderers & Belles are working with Hewett Academy to provide first class playing facilities that will mean both the clubs and the students at the school have access to some of the best quality pitches around."

"Hewett has always been a school rooted in our community and this is a great partnership that we look forward to growing in the future."

Mulbarton Wanderers & Belles FC Club Chairman Duane James said:

"As a growing club, Mulbarton Wanderers and Belles having been looking to increase our access to top quality facilities locally by adding to our village base and improving our playing areas. As an ex-Hewett student, I remembered the feeling of playing on excellent pitches at the school and wanted to pass that feeling along to all our older youth players. Our facility in Mulbarton has many teams using it, and to ensure that we could play as many games as possible without having to postpone because of our capacity and dependency on dry weather, we are delighted to secure this opportunity. We will look to work with the school and our resident ground company TH Groundcare to deliver the best surfaces possible for the school and our teams, whilst alleviating issues we have at our current site. I think this is an amazing opportunity for both Wanderers and Hewett to grow together and hopefully produce some future stars."