Christmas Hampers are back! But we need your help….
Back
November 22nd 2021
Ho ho ho!
Volunteer driver elves are needed for the Big Hewett Academy Community Christmas Hamper Drop on Saturday 18th December at 1pm.
Friends of Hewett and staff from Hewett Academy are teaming up this December to ensure everyone in our school community receives a treat this Christmas.
For the second year running, we have raised funds to create food hampers for anyone in our school community who would like one to ensure every Hewett Academy pupil has a very Merry Christmas this year.
We need volunteer teachers and parents to come and help deliver over 150 hampers to doorsteps around Norwich on Saturday 18th December at 1pm. Come to the school car park and you will receive hampers and delivery addresses. All you have to do is deliver them!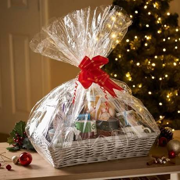 Hampers will be delivered to every child who receives free school meals. If your child doesn't receive free school meals and you would like a hamper, just ask the school office, no questions asked.
This is a community Christmas - the Hewett Academy way!
If you can volunteer, please let our very own Mary Christmas, Ms Nicolson, know by emailing her at: carinanicolson@inspirationtrust.org.